Film Blowing Machines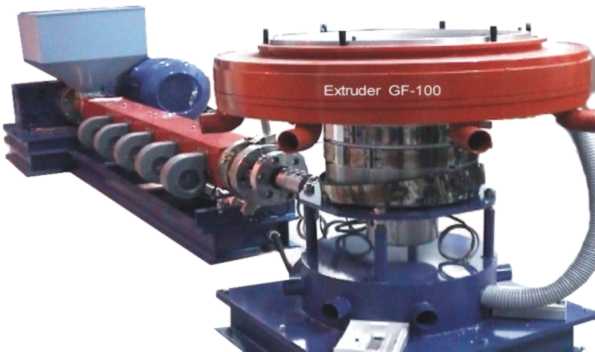 Complete blown film systems for single or multi-layer films up to seven layers of HDPE, MDPE, LDPE, LLDPE, MPE, EVA, PP, PA, EVOH, PET, PS, Ionomers, Blends and Reclaim.

SINGLE LAYER FILM BLOWING MACHINES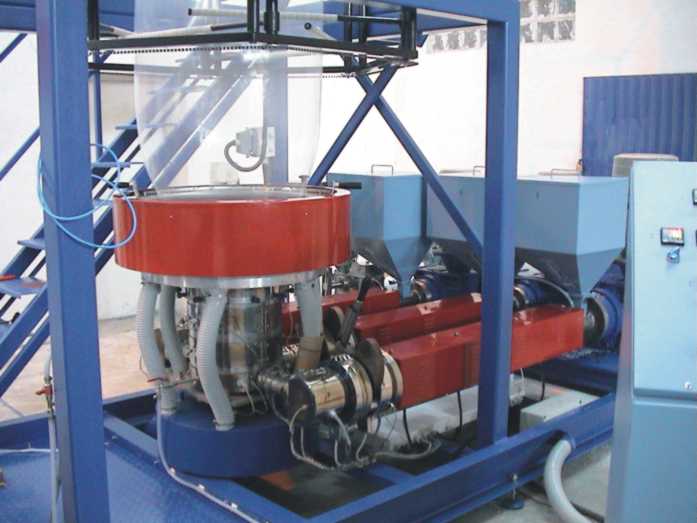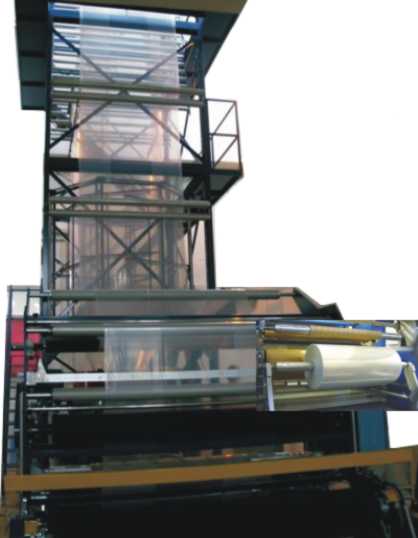 The BLOW FILM EXTRUSION LINE is the most important for General Plastics. Our experience in this field is the result of many lines sold all over the world. We can offer to our clients a complete range of films extrusion lines with the most advanced technology. The extruders are outstanding for their performance characteristics: high productivity, excellent material plastication, efficient temperature control of the barrel, speed control by inverter, low energy consumption, dependability and application flexibility. Centre-fed BLOWING HEADS are with spiral-type mandrels. Available in stationary or rotating version, single-layer or multi-layer.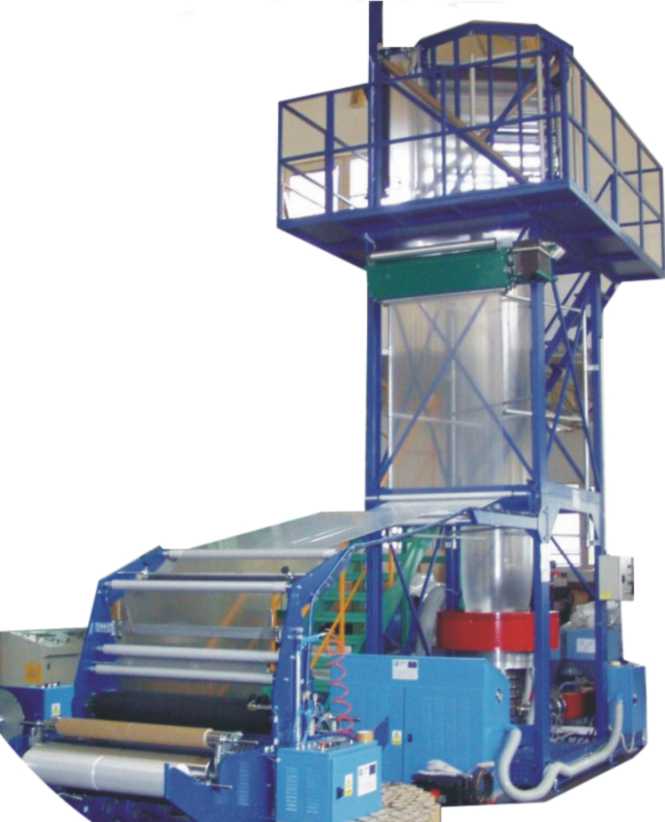 Body and dies are made of special steels. COOLING UNITS for external bubble cooling, consisting of cooling rings with their blowers, air hoses and boxes. The rings are made of aluminium.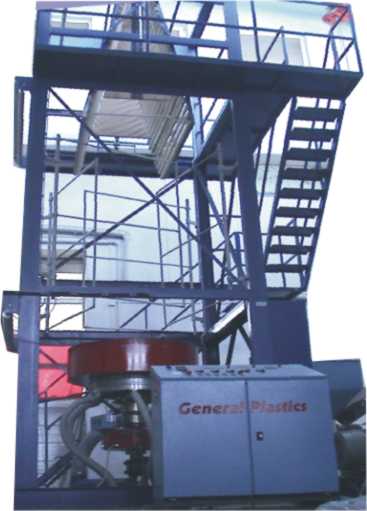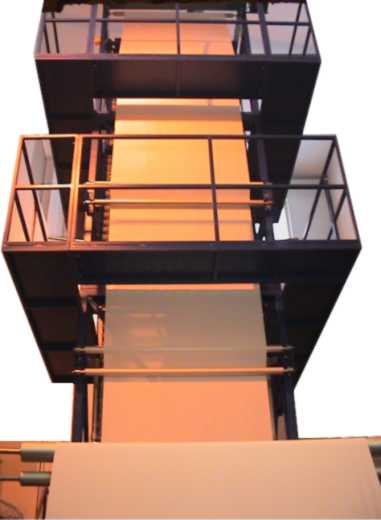 TAKE-OFF UNITS are available in several dimensions and versions. WINDERS available in several dimensions and version, single or dual- station, economical design or semi- automatic. Our CONTROL is extremely practical and easy to use. The real saving in raw materials, the constant quality on the film being made.
---
MULTI-LAYER FILM BLOWING LINES (2-7 layers)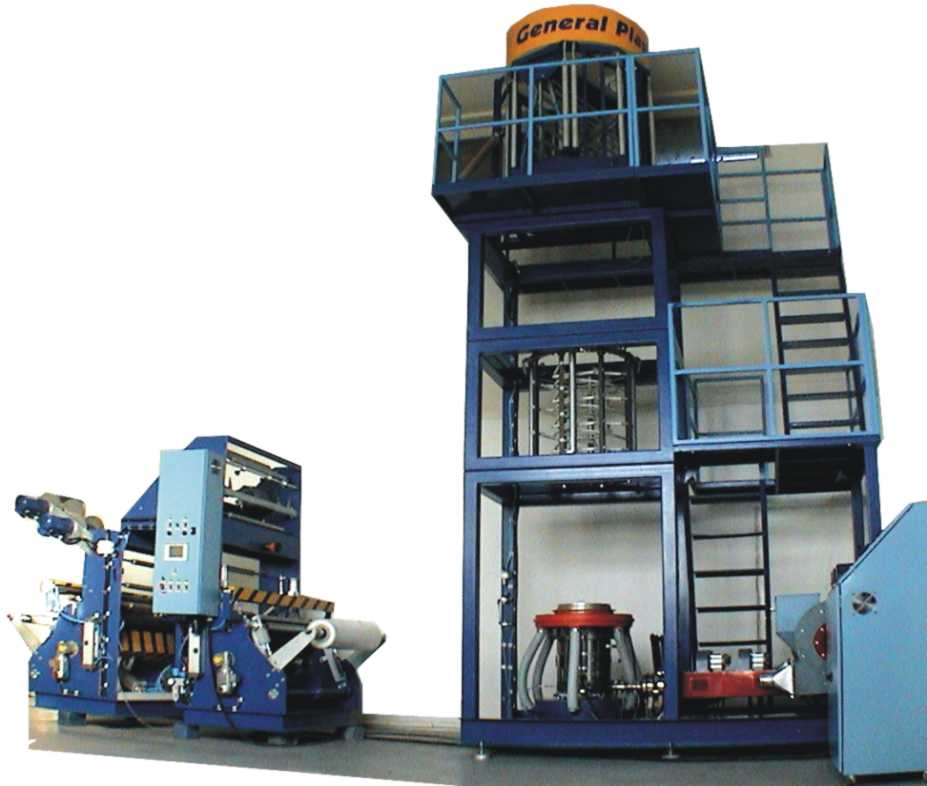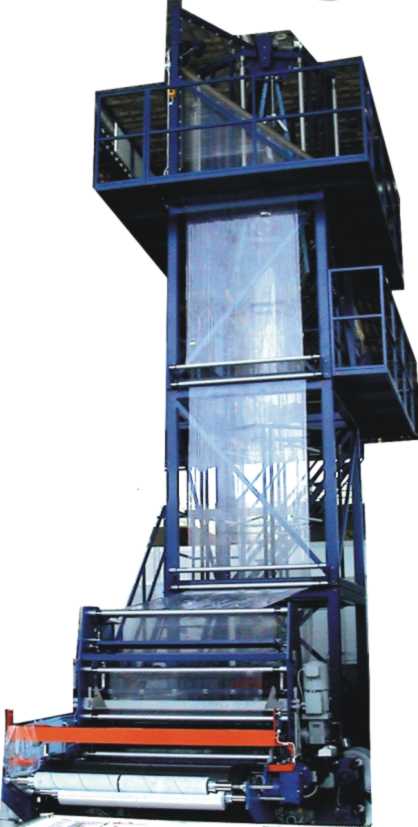 Important part of G.P. Extrusion product range, multi-layer blown film lines provide solutions for industrial and food packaging, as well as for technical and agricultural applications. We can offer you complete range of machinery and lines for LDPE, HDPE, LLDPE, Metallocene, PA, EVA, PP, EVOH, and special resins.
We can deliver a taylor-made line designed in conformity with specific production targets and quality standard of the client. A successful company is carried by excellent ideas - ideas with the dynamics to give the company meaning, growth and future. With our extrusion lines you can produce stretch film, thermoshrinkable film, film for production of various types of bags, diapers,food packaging, coextruded film for the most diversified packaging applications and for agricultural applications.
MODEL

GF-

30H/400

30L/400

30HL/400

GF-

35H/500

35L/500

35HL/500

GF-

40H/700

40L/700

40HL/700

GF-

45H/900

45L/900

45HL/900

GF-

55H/1200

55L/1200

55HL/1200

GF-

65H/1700

65L/1700

65HL/1700

GF-

80H/2200

80L/2200

80HL/2200

GF-100L/2800

120L/3500

FILM THICKNESS (mm)

H:0,008-0,1

L:0,010-0,15

H:0,008-0,1

L:0,010-0,2

H:0,008-0,1

L:0,010-0,2

H:0,008-0,1

L:0,010-0,2

H:0,010-0,1

L:0,010-0,2

H:0,010-0,1

L:0,010-0,2

H:0,010-0,1

L:0,020-0,2

L:0,035-0,2

SCREW DIAMETER (mm)

30

35

40

45

55

65

80

100 / 120

FILM WIDTH RANGE (mm)

H: 100-350


L: 100-350

H: 150-450


L: 150-450

H: 150-600


L: 150-600

H: 250-800


L: 250-800

H: 300-1100


L: 400-1100

H: 500-1500


L: 500-1500

H: 700-2000


L: 700-2000

L:1000-2600

1000-3300

ROLLER WIDTH (mm)

400

500

700

900

1200

1700

2200

2800 / 3500

GALLERY
---
MULTI-LAYER CAST FILM LINES

---
WINDING UNITS
GALLERY
---
OTHER MACHINES
GALLERY
---
PERIPHERIAL EQUIPMENT
GALLERY
OPTIONAL EQUIPMENT: EMBOSSING ROLLER, FILM SURFACE TREATER , AUTO FILM WIDTH CONTROLLER, ROTATING DIE MECHANISM, BACK TO BACK WINDING UNIT, AIR COMPRESOR , AUTO LOADER, MICROPERFORATING UNIT
---
All machines MADE BY General Plastics in Europe
Very competitive prices